ACLS Recertification Overview
ACLS is designed to provide healthcare professionals the ability to participate in the management of cardiopulmonary arrest and other cardiovascular emergencies. It emphasizes the importance of BLS to patient survival, the integration of effective BLS with ACLS interventions, and the importance of effective team interaction and communication.
Prerequisites
Must have a current/non-expired ACLS card
What to do BEFORE class:
Every student is required to take the Precourse Self Assessment Evaluation and review the 2020 ACLS Provider Manual before attending class.
Visit to https://elearning.heart.org/
Search code KJ-1480 on top right search box and choose ACLS Precourse Self-Assessment.
Re-take this Precourse Self Assessment Evaluation until you receive an 70%
Print and bring your score to class
Course Content
Key changes in ACLS from the new 2020 AHA Guidelines
Systemic approach (assessment)
High Quality BLS
Recognition and early management of respiratory and cardiac arrest
Recognition and early management of peri-arrest conditions such as symptomatic bradycardia
Airway management
Use of medication
Rhythym recognition
CPR coach
Management of acute coronary syndromes (ACS) and stroke
Effective communication as a member and leader of a resuscitation team
Effective Resuscitation Team Dynamics
Features
Course uses learning stations for practice of essential skills and simulated clinical scenarios that encourage active participation
Hands-on class format reinforces skills proficiency
Classroom-based works well for learners who prefer group interaction and instructor feedback while learning skills
Course Completion eCard and Continuing Education
American Heart Association ACLS Provider Course Completion eCard, valid for two years.
Board of Registered Nursing Provider approved for up to 6 CE units
EMS CE's available and may vary by license type
Textbook Requirement
2020 ACLS Provider Manual
ISBN #: 978-1-61669-772-3

You are required to have the current textbook for this course. If you already own one or have access to one before, during, and after the class, you do not need to purchase one here.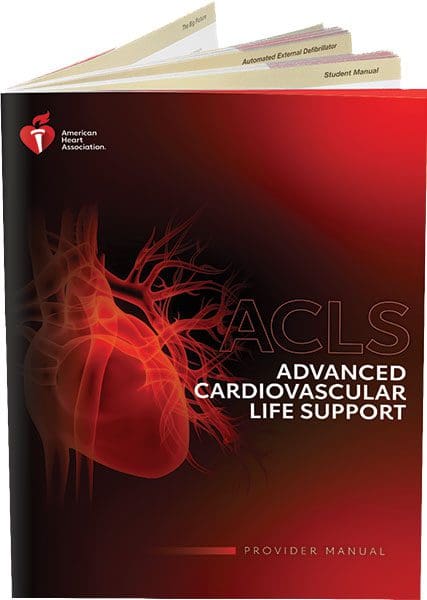 $200.00
AHA ACLS for Healthcare Providers eCard
Oakland or Redwood City, CA
7 hours over 1 day, with time for breaks and lunch included
(based on 1 instructor | 8 students | 2 manikins)
Textbook Requirement*
*available for purchase at registration
Classroom Course
Oakland / Bay Area
Sacramento
eLearning - Online and Skills Check
eLearning - Skills Check Only
Your Location
American Heart Association ACLS Certification for healthcare providers includes management of Bradycardia, Tachycardia, and Pulseless arrest using 2015 AHA Advanced Cardiovascular Life Support guidelines as well as Stroke and Heart Attack, ACS.
Please choose a location:
Oakland / Bay Area
Upcoming ACLS Renewal Courses:
Sacramento
Upcoming ACLS Renewal Courses:
Part 1:
Must be completed before Part 2 and 3 (skills session)
3-5 hour online, self-paced course accessible anytime from any computer
 Students can access the ACLS for Healthcare Providers Student Manual, ACLS Pocket Reference Card and more for 24 months
May be used for initial or renewal ACLS for Healthcare Providers Course completion.
Part 2 and 3:
Make sure you complete the course survey at the end of the eLeaning to generate your Completion Certificate
Bring the Completion Certificate to your instructor on the scheduled skills session (30 min duration)
Practice, demonstrate, and successfully complete skills testing with an instructor to receive your ACLS Provider Card on the same day
Upcoming Courses:
This is an ACLS or PALS Skills Check ONLY. If you have not purchased and completed the online eLearning ACLS or PALS HeartCode Part 1, you must choose that course first.
Upcoming Courses:
Prefer a convenient location option for your group of 8 or more?
Project Heartbeat makes every effort possible to provide classes available throughout the entire Bay Area.
In addition to classes conducted at one of our facilities, Project Heartbeat understands that it is much more convenient to send 1 instructor to your facility rather than sending all your students to ours. Therefore, any of our classes can be personalized to your needs and conducted at your home, workplace, school, hospital, or other healthcare facility.
Onsite classes can be scheduled 7 days a week during the morning, afternoon, early evening, or even during an extended work lunch break.
We will make every effort to tailor a class specific to your needs!