Basic Life Support (BLS) Certification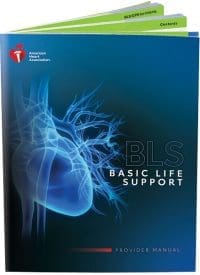 The BLS Certification Course trains participants to promptly recognize several life-threatening emergencies, give high-quality chest compressions, deliver appropriate ventilations, provide early use of an AED, and relieve choking in a safe, timely and effective manner. Most healthcare providers are required to take this course.
In the Instructor-led course, students participate in simulated clinical scenarios and learning stations. Students work with an AHA BLS Instructor to complete basic life support skills practice and skills testing. Students also complete a written exam.
New beginners and expired BLS provider card holders will need to take this initial certification.
Features
Updated science and education from the new 2020 AHA Guidelines Update for CPR and ECC
Instructor-led, hands-on class format reinforces skills proficiency
Emphasis on high-quality CPR including a team dynamics classroom activity
Video-based course with real world scenarios
Learn More About BLS Certification
Basic Life Support, or BLS, training shouldn't just be dedicated to health care professionals. Many people in other professions, as well as non-working lay people, can benefit from a quick class during which they learn how to provide rescue care and use an AED until emergency personnel arrive on the scene. Are you one of them?
Are ACLS and BLS the same thing? The short answer is no; they differ quite a bit – specifically in the level of advancement. So, what is the difference between BLS and ACLS, and which do you need? Read on to find out.
BLS certifications tell the world that you know how to perform CPR and perform basic life-saving techniques. If you're planning to get into the health care field yourself, you may be wondering when you should get your certification. Is it best to get it long before you apply for your first job, or should you wait until you are accepted into a position?